Premium Page Text-Only Ad - 285 pixels wide x 90 pixels high (3 15/16" x 1 1/4 ")


Note: Example above shown with added available options
Includes:
Display of business name, address, phone ,fax & email addr.
Placement of up to 1 rating (i.e. AAA or Zagats).
Colors:
Border color of AD box: "NJBeach blue" (RGB: 2C6090)
Address or text Font Color: "NJBeach blue" (RGB: 2C6090) or BLACK (RGB: 000000)
Title Text Color (Name of Business): Customer Choice
Price includes installation on respective Premium Ad Page
Available Options:
Adding Hyperlink that leads to Customer's Homesite - available at additional cost.
Add hyperlink that leads to Reservations/Worldres page - available at additional cost.


Custom Websites
Data Mountains and NJBeach.info offer custom designed websites. The cost of a custom website can be estimated for interested parties after receipt of customer's specifications.


Button Options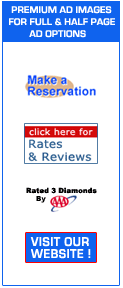 These are some of the standard navigation buttons used on the advertisements shown here.
Set-format (Templated) Websites
Templated websites:
Description: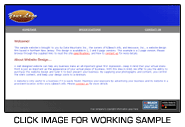 Website is a pre-constructed HTML-only template design offered in three color combinations. Lateral header and Trailers of matching color-combinations, using HTML-text page links. Available in 3 pre-built color-combinations. Same headers/trailers & page layout used on all pages within the site. Max page size per page is 1.5 times screen height (or 900 pixels, whichever comes first). This type of website can have 1, 3 or 6 pages.
Customers must supply text in word format either on disc or by email attachment, or by directly as email content. Customers who supply text/copy on paper incur an additional charge.
Customer is responsible for ensuring that all submitted images and text have met any and all applicable copyright laws, and holds Data Mountains and it's subsidiaries, sub-contractor and heirs, harmless against all damages caused by copyright infringement.
Customer Supplies:
1. All text/copy & content (in Word .doc, or by email).
2. All photographs (in .gif or .jpg format only).
3. Logo in .gif format w/transparent background. If customer supplies logo on color background, there is an extra cost associated with removal of background (priced upon examination of logo file)
Extras/items not included in above price:
1. Domain Name Registration
2. Site Hosting
3. Email
4. Maintenance of Website (additions/deletions/changes and/or modifications)
5. Search Engine Submission