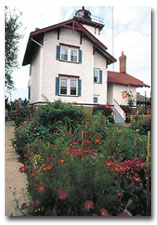 Hereford Inlet Lighthouse
Victorian Charm, Gas-lit Streets and Historic Villages

Immerse yourself in Victorian history, stroll along a moonlit beach, and -challenge yourself to championship golf and fishing. The Southern Shore Region is a great getaway that includes romantic B&Bs, restored schooners, and beautiful seaside resorts.

Discover the treasures that are bordered to the east by the Atlantic Ocean and to the west by the Delaware Bay. Hunt for Cape May diamonds, watch for whales and thrill to the tigers at Cape May County Zoo. Guarded by Cape May Lighthouse, New Jersey's southern tip offers nature -preserves, excellent birding and whale watching. Song birds, shore birds, herons, raptors and eagles all nest along the beaches and in the pinelands. In fact, Cape May is considered one of the top 10 -birding sites in North America.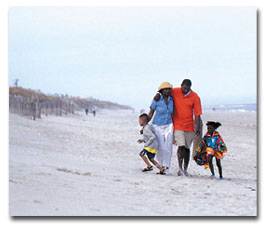 The beach is the perfect family outing
on a hot summer day.
Leaming's Run Gardens in Swainton features 30 acres of breath-taking colors, while scenic Bridgeton's largest historical district features a myriad of colonial, victorian and federalist architecture. Historic Cold Spring Village is a 22-acre, 18th-century farm village and in Millville, be sure to visit Wheaton Village with its glass exhibits and live demonstrations.

Sail New Jersey's Tall Ship, the A.J. Meerwald, a 115-foot, authentically restored 1928 Delaware Bay Schooner. Help raise and furl the majestic sails, handle and coil the lines; assist the crew as they trawl for sea life.
The Wildwoods offers non-stop excitement and 1950's 'Doo Wop' preservation from Chinese pagoda and thatched roofs to Elvis motifs and space-age style. In Ocean City-"America's Greatest Family Resort", don't miss the "Nights in Venice" parade, a lighted flotilla of boats of all sizes and shapes that parade through the back bays.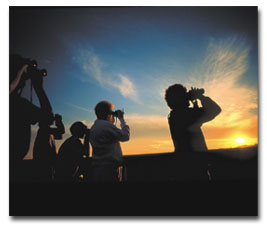 Bird watching in Cape May...one of the country's premiere "birding" spots.
Victorian Cape May is America's oldest seaside resort. It features more than 600 meticulously-restored Victorian buildings, gas-lit streets, distinctive B&Bs, unique shops and of course "Painted Ladies." Special events range from music, food and wine festivals to October's celebrated Victorian week, to the magic that aptures Cape May during the holidays. Ferris Wheels, Jazz Festivals, Miss Crustacean Pageants, Kite competitions and Harvest Celebrations are all part of the year round celebration here. Travel by trolley, tall ship or horse drawn carriage. Dine on 'Jersey Fresh' produce, the catch of the day or good old-fashioned cotton candy.

With so much to experience, to see and to do, you will know why the Southern Shore Region is considered a resort for all seasons.