Visit the Casinos
in Atlantic City
"America's Favorite Playground"
America's Favorite Playground hosts 37 million visitors each year who enjoy the beautiful beaches, 24-hour gaming, rolling chair rides on the world's first boardwalk and the pageantry of Miss America.
When the sun goes down, the stars come out! Headline entertainment, revue shows, and exciting nightlife reverberate throughout the region. Historic Boardwalk Hall hosts professional boxing and -hockey, family shows and concert performances.
Just a short stroll down the boardwalk, Ripley's Believe It or Not Museum astounds visitors; The Atlantic City Art Center and Historical Museum at Garden Pier expands one's horizons; and The Shops On Ocean One offer shopping in a mall shaped like a luxury liner.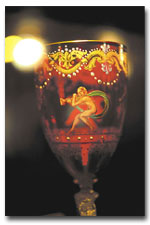 Tour the Renault Winery and Glass Museum
located in Egg harbor City

The newly restored Absecon Lighthouse offers a birds-eye view of the Atlantic Ocean and the Brigantine Inlet. The Ocean Life Education Center gives you an underwater view of marine life. The Brigantine Marine Mammal Stranding Center is internationally renowned for the work they do in rescuing stranded seals, dolphins and whales. And you do not want to miss "Lucy the Elephant" in Margate, South Jersey's own Trojan Horse that has been used as a private home, then a real estate office and is now a museum.

Hidden Treasures are not just found along the coast. The Noyes Museum in Oceanville displays vintage bird decoys and outstanding American art. The Edwin B. Forsythe National Wildlife Refuge features more than 42,000 unspoiled acres. Historic Batsto Village is a restored 19th-century village and the Renault Winery hosts fairs and festivals to celebrate the harvest.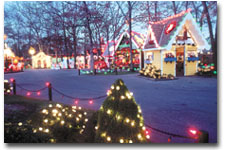 Storybook Land in Cardiff
The Atlantic City Surf will thrill baseball fans at the Sandcastle Stadium while the Seagulls slam dunk for basketball fans. Championship golf courses, deep sea
fishing, sailing, surfing and more...the Atlantic City region is a recreational wonder.

It is easy to see why so many visitors choose the
Greater Atlantic City Region as their favorite playground.